Here it is, the fastest and loudest TVR ever... The Typhon is TVR's latest creation. It shares the Tuscan's tubular space frame allthough reinforced with aluminium honeycombe and clad with a beautyfully sculptured carbonfiber body.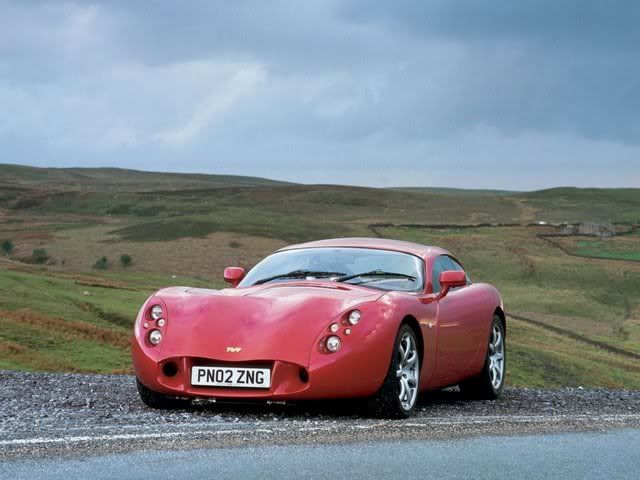 This car is mostly the work of the aerodynamicist, as the profile shows pretty good. What it also reveales is the clean lines with no doorhandles. TVR chairman Peter Wheeler thought that doorhandles where ugly, so there is a button under the mirror that when pressed the door opens. Also a clean line will be more aerodynamical.
The interior of the T440R/Typhon is something unique. With an attention to details thats only seen in a modern days arts museum. It doesent have dials and switches, but small toys, like those brass and aluminium nobs and the handstiched leather combined with exposed carbonfiber. All in all you can say that the interior reflects its racincar underpinnings with a distinct minimalist style.
The rear end also reflects the attention to aerodynamics with the rear diffuser and the way the roof ends down to the back of the car. The arrangement of the rear lights may look like a mess, but it is actually a certain pattern in it. The part with the exhaust outlets is promised tied up a little for the production model.
Specs:
What do you think about this car? Nothing looks quite like it, eccept other TVRs. I'm sorry i didn't get any pics of the engine though.... Speaking of engine and more specifically engine noise, I have a video of a road and track test of a pre production T440R, done by ex racingdriver Martin Brundle. Check out
this
video... (Rightclick, save target as... (26mb)