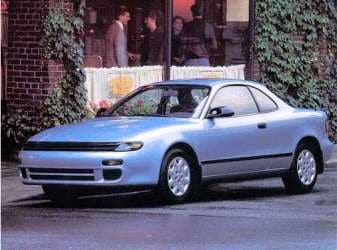 ST Coupe
Liftback
Convertible
The Wikipedia article is huge, so here are some US relevant highlights. I included bits about the All-Trac, because they might be interesting, but we're voting on the non-All-Trac version.
QUOTE
The fifth generation Celica was introduced in September 1989 for the 1990 model year. The Celica received new organic styling, upgraded wheels and tires, and a more powerful GT-Four (US: All-Trac). Toyota engineers claimed that the round styling and lack of straight edges increased strength without adding weight. The styling was later copied by other manufacturers. The Full-time 4WD system in the GT-Four has viscous coupling limited slip center differential and Torsen rear differential.

The North American Celica had fixed door mirrors and amber front corner lights. All other models had folding mirrors and clear corner lights. Driver's side SRS Airbag is standard on all US models. The base model ST has 1.6 L 4A-FE, the GT and GT-S were powered by the 2.2 L 5S-FE. The 1.6L was similar to the one used in the Corolla. The GT-S was rated 5 hp (4 kW) more than the GT at 135 bhp (101 kW; 137 PS). The 2.2 L was designed for more low-end torque, which appealled to U.S buyers' preferences as opposed to the high revving engines of the past. This engine was similar to the Camry's engine except for the balance shafts. The All-Trac was available with the improved 2.0 L 3S-GTE engine. It was rated at 200 bhp (149 kW; 203 PS) and 200 lb·ft (271 N·m) torque; an increase of 10 each from the previous model. The GT-S and all export market GT-Four are wide-body Liftbacks with flared fenders.

The Celica Convertible was built by American Sunroof Corporation (ASC) in California. It was offered as GT in USA with 5S-FE engine.

There are three different gearboxes for ST185 GT-Four. The E150F gearbox with 4.285 final gear ratio was installed in the JDM and All-trac.

Anti-lock brakes (ABS) were available on the GT-S all four years and was available on the GT from 1992 to 1993. ABS, Leather interior, sunroof, and System 10 Premium Sound System are optional on the GT-S and '90–'92 All-trac, and standard on '93 All-trac. With its sport-style interior, power-operated driver's seat, auto tilt-away steering wheel, and cruise control as standard equipment, the All-Trac (known as the GT-Four outside of the US) was the most expensive Celica yet. With a 2.0 L turbocharged 3S-GTE producing 149 kW (200 hp), it was also one of the most powerful Celicas made thus far.
Wikipedia