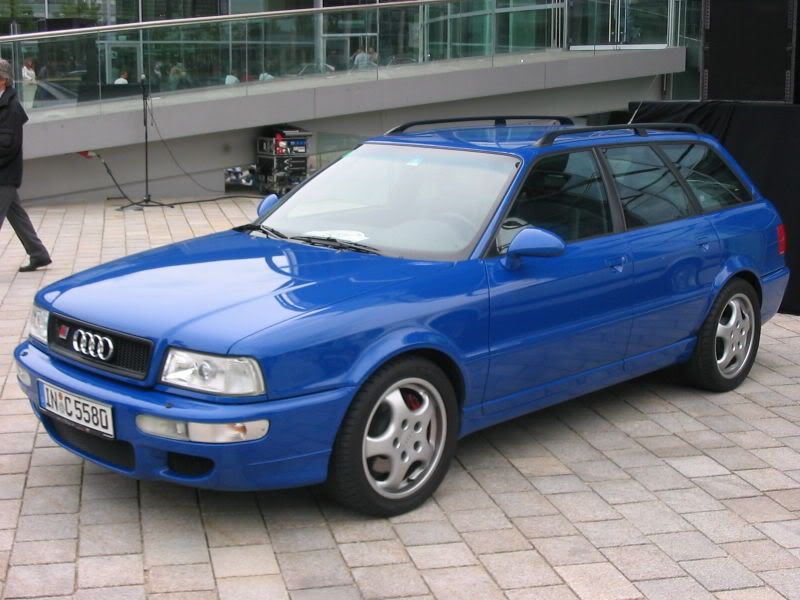 QUOTE
The RS2 was the product of a co-development project between Audi and Porsche, based on Audi's 80 Avant, and powered by a modified version of their 2.2 litre, 20-valve turbocharged 5-cylinder engine (code: ADU) producing 232 kW (315 PS; 311 bhp) at 6500 rpm. Although much of the car's underpinnings were manufactured by Audi, assembly was handled by Porsche at their plant in Zuffenhausen, Germany which had become available after discontinuation of the Mercedes-Benz E500, which Porsche had manufactured under contract.

Like the rest of the vehicle, the RS2's 5-cylinder engine was based on a unit that Audi already produced, although Porsche considerably modified the engine; the standard KKK turbocharger was switched for a larger unit, along with a heavy-duty intercooler and higher flow fuel injectors, a newly designed camshaft, a more efficient induction system, and a low-pressure exhaust system replaced the standard fare; a new Bosch-supplied engine management system (ECU) controlled the engine.

With so much power available, the RS2 could run from 0 to 100 km/h (62 mph) in 4.8 seconds, and achieve a maximum speed of 262 km/h (163 mph) (electronically restricted), despite weighing over 1,600 kg (3,527 lb). In a road test conducted in 1995, British car magazine Autocar timed the RS2 from 0 to 30 mph (48 km/h) at just 1.5 seconds, which they confirmed was faster than both the McLaren F1 road car, and also Jacque Villeneuve's Formula 1 car of that time. Even by more modern standards, its performance is exceptional; it could accelerate on-par with the C5 generation Chevrolet Corvette, and was only a tenth of a second slower to 60 than a 996 generation Porsche 911.

Audi's quattro permanent four-wheel drive system was standard, and Porsche-designed braking and suspension systems replaced the standard Audi 80 equipment. 40 mm (1.6 in) lower than a standard 80 Avant, the suspension and braking upgrades combined to give the RS2 the handling and braking capabilities of a high-end sports car; 17 inch wheels, and high performance 245/40ZR17 Dunlop tyres were standard as well. In fact, the braking system wore Porsche badged Brembo calipers, and both the wheels and side mirrors were identical in design to those of the 964 Turbo. Additionally, the word "PORSCHE" is inscribed in the RS2 emblem affixed to the rear tailgate.