QUOTE
The 964 Turbo 3300, with all the necessary modifications to be used in competitions, in 1991 won the IMSA Supercar Championship against the Chevy Corvette and the Nissan ZX, thanks to Hurley Haywood. This racing version of the 964 Turbo 3300 has taken to the built of a laboratory-car, presented at the 1992 Geneva Motor Show with the name "911 Turbo S". But there was so much interest for this car, that the Porsche Factory decided to make a limited production run of it (80 cars). The instructions which have been taken to this wonderful monster, provided a riduction of the weight, an increase of power, and an increase of strenght of the chassis. It's recognizable for the big 235/35 ZR 18 Dunlops on Three-piece rims. Massive 265/35 ZR 18 provide the traction at the rear, aided by a special limited-slip differential with up to 100% lock depending on power. Aesthetically the car is also recognizable for the front air scoops instead of front fog lamps for the brakes and oil coolers, the 959-style intakes in the rear wings (which duct extra air to the engine) and a bigger spoiler. With a dry weight of 1290 kilos, the 911 Turbo S is at least 180 kilos less than its production counterpart; It went on a weight reducing exercise much like that of the Carrera RS, racing seats, no eletric windows, central locking, reduced soundproofing and rear seat and doors opened from the inside by a simple pull strap. Further weight is trimmed by using ultra-light Kevral doors, bonnet, engine cover and rear wing, and there is no underbody protection.

ENGINE: principally, the engine is the same 3.3-liter of recent years, but for this limited runs of 80 cars, a number of modifications have been made: revised camshafts have been fitted, a larger turbocharger produces more power at high revs, and the engine management system has been reprogrammed to suit. The modifications are said to produce a futher 61 horsepower on top of standard car's 320, but it feels more like 150. The Turbo S is tuned for high power output and it comes on in a brutal fashion, not at all progressive. In this respect it is reminiscent of the first 930 Turbo. It is basically all or nothing, and never before has a car of Zuffenhausen been so much fun.
TECHNICAL DATA

Engine: Rear, longitudinal, SOHC flat-six
Bore x stroke (mm) 97 x 74,4 mm
Feeding Fuel injection, Turbocharger KKK, Intercooler

Displacement: 3.299 cc.
Maximum power: 381 hp. @ 6.000 rpm.
Maximum torque: 362 lb/ft. @ 4.800 rpm.
Compression ratio: 7.0 : 1
Transmission: Rear traction, 5 manual speeds + RM.

Front suspension: Indipendent wheels, double floating arms.
Rear suspensions: Indipendent wheels, double floating arms.
Steering: Rack & Pinion

Brakes: selfvented discs, ABS system.

Tyres: Front: 235/40 ZR 18.
Rear: 265/35 ZR 18.
Wheels: Front: 8 j x 18.
Rear: 10 j x 18.
Dimensions: 4.205 x 1.770 x 1.310 mm.
Weight: 2843 lb (1290 kg)
Performances: Maximum speed: 290 km/h.
Top Acceleration 0-100 Km/h: 4,6 sec.
Top Acceleration 0-200 Km/h: 14,2 sec.
Top Acceleration 0-1000 m.: 22,4 sec.
Production: 80 cars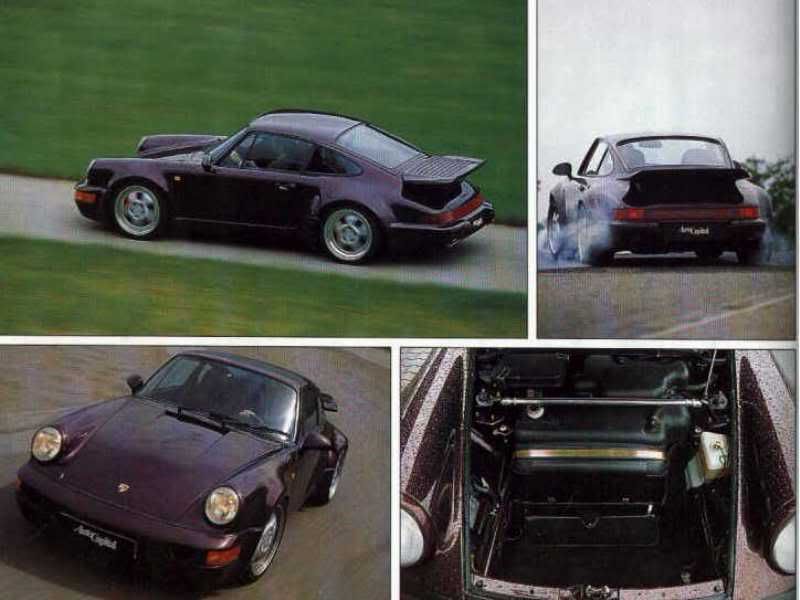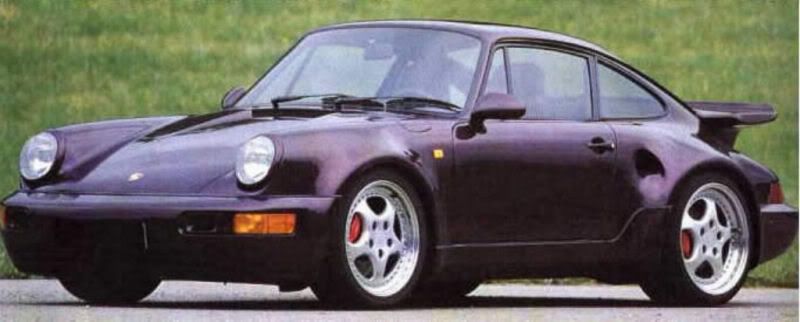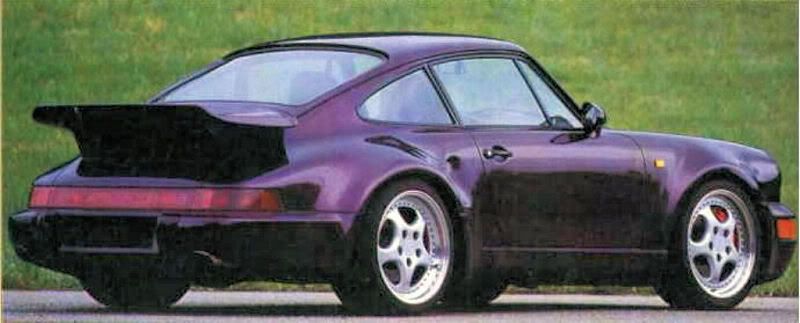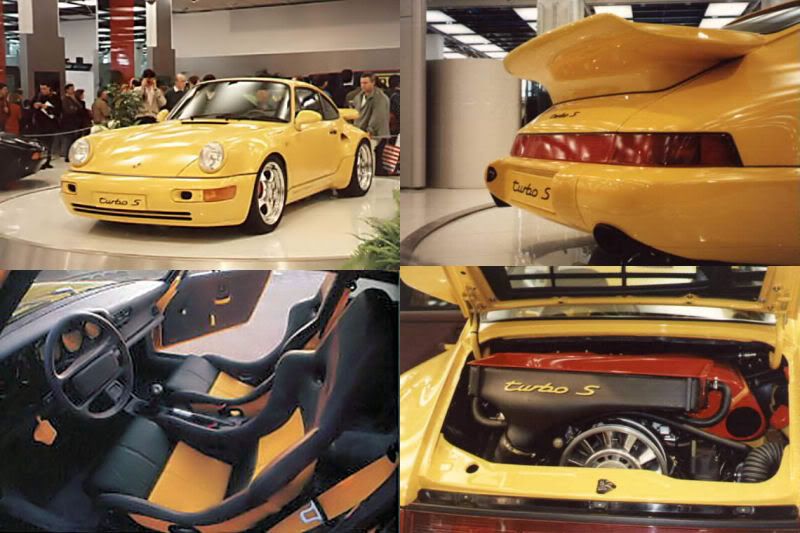 (
Very high resulution version of the last one...
)
I know this was posted before, but it disappeared with the forum's breakdown last summer, and I think it's worthy of being brought back...