Posted by: Dr. Strangelove Apr 20 2012, 03:12 PM
Hey guys,

It's been ages since I've posted on here but I just got a new job as a photographer for a dealership out here and I could use some help.

Its a pretty high-end dealer network and the owners want to have the best photos of any dealer in the country. For pro photogs, having the best photos possible is a very expensive proposition, but I have to keep in mind that most of my competition is like this:




The dealership wants to put in a dedicated studio in a small service bay at the dealer. They are investing in a turntable, new walls, lighting... the whole shebang.

Most of my photo experience is journalism related, but I've shot cars on a number of occasions. My mantra has always been shoot with as little equipment as possible, and if you run in to a wall with your given equipment, then go out and buy new stuff. The current situation means I have to be able to reccomend lighting equipment to my bosses that is cheap and massivly re-usable (Think 12 cars a day times 60 photos per car).

I have next to no experience with lighting or studio work, but I know a little.

So here's the question: What equipment do I need to set up an OK studio? We need best bang for the buck kind of stuff here. Mobility isn't really an issue, longevity and cost are. Ideally, I would like to keep the lights in more or less the same place for every car and just rotate each car around on the turn table.

It's a small all white room right now, about the size of a one car garage. I was thinking I would paint the back wall (A garage door) black to keep from reflecting anything and either mount two large soft boxes or lights of some sort from the ceiling.

I could really use some help here guys. They're investing a lot into this thing and I want to do it right. Any thoughts or reccomended reads I should look into?

Posted by: Dr. Strangelove Apr 23 2012, 09:16 AM
No thoughts, hu? I was thinking three of these http://www.adorama.com/FP2SB2436.html with three of these http://www.adorama.com/FPBKA.html for lighting...

Paint the back of the garage black to keep reflections down and white for everything else. A Nikon D5100, and a decent laptop would do the trick.

Am I on the right track? I really need some opinions here, I'm mostly guessing because I have no experience with studio work.



Posted by: Jacob Photo Apr 23 2012, 12:02 PM
The car studio's i've used have HUGE, massive lightbanks in an overhead softbox to help shape the car. you MAY be able to get away with using a large reflector, but in general, it's just better to have the light coming from overhead.

Does the dealership plan to build out a cyclorama at all? How many sides do they plan to enclose? Are you going to paint the floor white? or keep it as polished concrete? Will the area be off limits for people to walk thru? or does it need to be accessible? Will they be giving you dollys to use full time? Or are you expected to share the dollys with the body shop?

I've found that you may be better off finding a simple wall to use on a regular basis. I shot these behind the shop for a client, they liked the simplicity (and I liked the lack of setup):




Links to the high res:
http://www.hankooktireusa.com/hantaCommon/image/events/FDLB0509/012FDLB0509.jpg
http://www.hankooktireusa.com/hantaCommon/image/events/FDLB0509/013FDLB0509.jpg
http://www.hankooktireusa.com/hantaCommon/image/events/FDLB0509/014FDLB0509.jpg
http://www.hankooktireusa.com/hantaCommon/image/events/FDLB0509/015FDLB0509.jpg

Building out (and more importantly maintaining) a proper indoor studio is a huge pain in the ass.

Posted by: john jovic Apr 23 2012, 03:06 PM
QUOTE(Dr. Strangelove @ Apr 21 2012, 09:12 AM)
...(Think 12 cars a day times 60 photos per car)....
First. Good luck. You seem to have set yourself quite the challenge.
If you intend to shoot a very large number of cars in the same setup then you have to accept a relatively low standard for most of them as there is no single setup that will work well with every colour, without significant post processing which you clearly want to avoid. If you are shooting 12 cars a day then you can't afford to be very fussy, you have to be very efficient.
A simple white cyclorama (see the link below), maybe even a light shade of grey instead of white (you can blow out areas of the wall to make them 'whiter'), with strobes pointed at the front/side/ceiling might be your best option.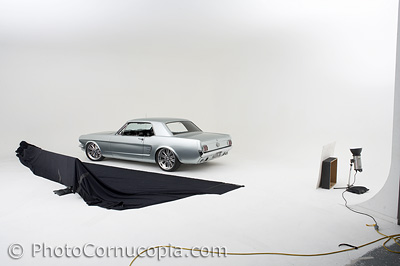 There's a bit of info about studio lighting in this link http://photocornucopia.com/1045.html . It will probably help you.
JJ